This delightful legend adds even more flavor to a spectacular taste of smoked turkey.
Smoked turkey can be dressed up or down. It forms the center of an all time great sandwich and is the beginning of many delicious variations. Unfortunately, like most things, a good smoked turkey is hard to find. If you don't have a talented, generous friend, you just about have to do it yourself.
Turkey smoking is not for the intense, "Type A" personality. It is the sort of activity that combines well with a triple-header football Saturday. It provides the perfect prophylactic to unwanted invitations, "I'd like to, but I'm smoking turkeys." And it would go well with a re-reading of "War and Peace."
HOW TO SMOKE A
TURKEY - RIGHT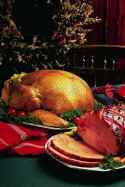 Get a right turkey. I prefer fresh. Not "sort of" or "semi" but real fresh. If you use frozen, follow carefully the producers instructions for thawing. And not a large one. 12-14 pounds is big enough. The heavyweight 20+ pounders create too many problems. It is safe to assume that all poultry has some little salmonella bacteria lurking about. Poultry, properly prepared and cooked, is safer than a baby's teething ring. But, large birds and low temperatures create opportunities whose knock you do not wish to hear.
Prepare the grill for smoking Turkey - temperature 170-190 degrees for prolonged periods; sweet smoke of fruitwoods (apple, pear) white oak, hickory; hardwood charcoal.
Trim excess fat and skin flaps and wash thoroughly under running water. Place directly on the grill. No salt; no seasonings.
Close down the grill. Adjust your air flow to maintain about 170 degrees. Go taste your favorite beverage or check out your game plan. Check back in about an hour to assure that you adjustments were what you thought they were. Adjust if required. Then find something to do for the next 15-18 hours.
How often you need to check the grill depends upon how long your grill will maintain the proper temperature range without your attention. How long you carry on, depends on how long it takes the center of the thickest part of the bird to reach 165 degrees.
The bird should have the same color if he had spent the summer on the beach. The meat should have a pink ring of smoke penetration. When sliced, juices should run clear. The meat should be moist and tender.
You may remove it at once to cool or reduce the temperature and lay on a fresh coating of new smoke. Allow the bird to cool before slicing in your usual professional manner. Try not to eat it all before everybody gets a taste.
SIMPLE SAVORY
ROAST TURKEY
One of the things for which I am always thankful this time of the year is the good taste our forefathers showed in selecting the centerpiece for the Thanksgiving meal.
They could have had armadillo. Or worse still - spinach souffle' or cauliflower quiche. If they gotten together in California, we might be celebrating over "a medley of tofu and frangipani blossoms."

Smoky's 5th basic position for really great barbecue'n.

'According to Smoky' is &copy by C. Clark Hale
who is solely responsible for its content. Comments
should be addresses to cchale@bellsouth.net