She is regularly invited to speak at chef's seminars and conventions. Her most recent one was before 150 chef's from all over. She has now graciously agreed to furnish us with some of her in sites into smells and flavors of spices from all over the world.
Savor some of her recent columns . . . . .

In this column, Ann gets right to the flavor of the topic, so . . . . . take notes!
With no further adieu, we turn the mike to Ann. You're on Ann . . . . .
WHAT THE BIG BOYS KNOW . . .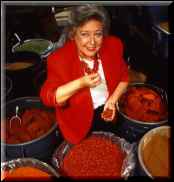 Large companies such as Kraft or Campbell Soup have many advantages of course, and I would like to address two of them, one in this article, and the other next month's issue. First, they employ talented, trained tasters, and secondly, they have access to many ingredients that are not available to home cooks and, therefore, are largely unknown.
When I was doing contract work for Kraft several years ago, I was amazed at the quality of their tasters. On one occasion, everyone on the panel immediately detected a change in the type of paprika used in a batch from one used in a prior batch, even thought there were at least 15 ingredients and the paprika was only a small port of the whole. On another occasion I switched wine vinegars from regular wine vinegar to aged wine vinegar. One young woman pronounced "I taste oak".
All of us are talented or we wouldn't be interested in outdoor cooking. What we lack is not talent, but training. There are classes in tasting in some large universities. If you are not close to such a school, as most of us are not, we can train ourselves.
Most of us know a great deal intuitively. We all have been interested in flavor and playing with flavors for years. To become confident about flavors, start by carefully tasting one flavor and asking questions. Where in the mouth o I taste? Is it in the front of the mouth, the side of the tongue, the back of the tongue, in the throat? What are the characteristics -- sweet, sour, pungent, hot, bitter, astringent? Does the flavor linger? When you understand that flavor, add another one, and then another.
Notice the aroma. Our sense of smell heightens our sense of taste. Because barbecue is always so aromatic, we may have a tendency to forget this important area.
Do they marry, i.e. do they come together and form a brand new flavor, something superior or something entirely new? Chili powder is an example of a flavor marriage. The secondary flavors marry with the primary ones and create a new flavor much greater than the sum of its parts. When ginger and molasses marry, they create a flavor superior to either alone.
In another kind of marriage, one ingredient acts as a catalyst. Its functions is not only to marry with another ingredient, but also to change it. Salt is the most common catalyst. It marries with other flavors and makes them brighter.
Acids are superior catalysts. Vinegar, lemon and lime, as well as wine, keep primary flavors from disappearing. White wine vinegar punches up the flavors of herbs and is often used in sauces for fish, while red wine keeps the flavors of beef stew intact. Vinegar lifts certain flavors out of the background and makes them more prominent.
Are the flavors opposite? Do they balance? Do they cancel each outer out? Do they emphasize the flavors? Sweet/sour, sweet/salty, sweet/hot are all opposites which emphasize the flavors. No cuisine is more dependent on opposites than barbecue. Sweet and sour is our name. Getting the right balance is the trick. Equal amounts of sugar and salt will actually cancel each other out. Keep in mind sour flavors balance salty ones, sugar cancels bitterness, i.e. in cocoa, sugar cancels the bitterness and makes the chocolate wonderful. Spicy flavors are balanced by fruity ones, which is why pepper is good on strawberries and great in a sweet wine sauce.
A second advantage is the knowledge of unusual ingredients not available through grocery or specialty stores. These ingredients are available to anyone through spice companies and flavor houses. In some cases, the minimum order may be high, but many ingredients may be bought in reasonable quantities.
SAVORIES First, almost anything that is available wet is available dry. For example, dry Worcestershire sauce comes in several varieties. Most spice companies have one or more types. It's great in rubs, adding depth and complexity, and rounding out flavors.
There are several dry acids which add the sour to balance the sweet in rubs and seasoning mixes. Dry vinegar not only creates balance, but also adds interest and sparkle. Try vinegar in combination with citric acid for a more complex flavor. Citric acid is very close to lemon and may be substituted for lemon in most recipes. Malic acid is milder, with very little flavor and is used successfully in raising the acid level in bottle sauces without changing the flavor.
Soy sauces is the primary ingredient for barbecue in other countries. We are missing a beat by ignoring this oldest known cooking ingredient. Not only does it add a salty note, but it also adds rich, deep notes, a wonderful chocolate color, and in the background, an incredible flavor which is not quite burnt and not quite caramelized - - very hard to describe - - but delicious.
All varieties of smoke flavors are sold; not only oak and mesquite, but apple, cherry, and many others. Old wine barrels soaked with wine and turned into chips are coming on the market. These all are great with stove top smokers or grills. Whether they would add significantly to real barbecue remains a question.
SWEETENERS Molasses is sold dry in several varieties from very sweet to slightly bitter. There are a number of varieties in honey as well as clove, sage, and orange blossom, to name a few.
corn syrup is another sweetener available in granular form. All are useful in rubs either by itself, or in any combination with other sweeteners. Each sweetener has its own special flavor profile.
Caramel, or burnt sugar, is available in light, medium and dark brown. Do not expect caramel to sweeten the product, it is for color only. Sulfites are sweeteners added as a preservative. Use sparingly, a little goes a long way.
Sweeteners are so complicated that we will need to discuss them in further detail at a later date.
YEAST Yeast is one of the major secrets of manufacturing companies an is used primarily to enhance flavors Most often yeast is added to increase the perception of salt and spices without adding salt. There are specific yeasts for specific jobs. Want a grill note? Try a yeast - - it rounds out a flavor! Some produce a creamy mount feel, or a fatty feel without adding either cream or fat. These are terrific for low fat barbecue sauces. Any flavor house can help you with your particular problems.
GUMS The use of gums is least well known to the general public and may be the most important ingredient to the barbecue industry. Popular gums are Xanthin, Guar and Locus Bean. All are natural products derived from vegetables or seaweed. Gums aid in emulsion, keep oil and other ingredients from separating, produce a rich mouth feel and add bulk to thin products. All are used in amounts less than 1%, and do not affect the flavor. Magic!
I have chosen only a few ingredients of particular interest to our industry. Knowing how to combine many flavors and aromas for a pleasing result and knowing when not to combine, or what not to combine, is the difference between merely good and superior food.
All this may sound too intellectual when good eating is anything but intellectual. Hopefully, thinking about flavors and aromas will add confidence to your choices.
Copyright © 1998, by:
Ann D. Wilder, President
VANN Spices, Ltd.