According To Smoky
Winter cooking can steal your energy and your heat.
Be sure to fight back!
---
---
Welcome to According to Smoky. Here you will find the latest and greatest from C. Clark "Smoky" Hale notable 'baster', author, publisher, television star in both the barbecue and 'the real' world. And yes, he is a real person and not the webmaster

Smoky will be offering his talents, techniques and secrets discovered over the last 150 years, or so. He will be to the point, pull no punches and if you suffer through the process, you will become a much better outdoor cook, turning out masterpiece meals for friends and family alike.

In this column, Smoky shows you how to keep your heat up without overheating! He will provide a unique insite into winter cooking. . . . take notes!

So, with no further adieu, we turn the mike to Smoky. You're on Smoky . . . . .
---
---
Thanks PC
OUTDOOR COOKING WITH SMOKY HALE
A short time ago, Yankees, food writers and mass merchandisers considered that Labor Day was the end of the outdoor cooking season. Now days, even Yankees know better. Knowledgeable Canadians don't let a little snow interfere with their plans to fire up the grill outdoors. We can't control the weather, but we can keep it from controlling us.
Personal comfort can be managed by dressing the part, letting the grill do its work outside while we stay toasty inside. However, the real key to successful winter time cooking is controlling the heat inside your cooker. The meat doesn't care what the temperature outside the grill, only what comes to it. So if you maintain the internal temperature, cooking times will not vary. Maintaining that temperature is the challenge.
Water, in any form, and wind steal BTUs like a band of bandits. Maintaining the desired temperatures in the grill/pit requires more fuel to offset the lower ambient temperature. That is not too big a chore in still, sunny weather, regardless of the thermometer reading. But protection from wind and water is essential for relaxed cooking in nasty weather.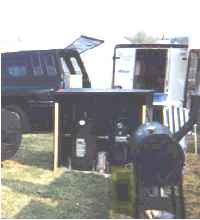 Regardless of the season, every barbecuer and griller should have some sort of overhead shelter, however impermanent, to protect from precipitation, liquid or solid. Water is many times more effective than wind in soaking up heat, so shelter from precipitation is essential. Pop-up canopies are relatively inexpensive, go up easily and if not burned up or allowed to blow away, can last for several years. Panels that attach to the sides will break the wind, not only reducing the heat loss, but making it reasonably comfortable for the cook and friends to hang around the pit. Your neighbors may not appreciate it, but I have made temporary shelters of PVC pipe, polyethylene and duct tape out at the hunting camp that worked very well.

Smoky's 5th basic position for really great barbecue'n.
'According to Smoky' is © by C. Clark Hale
who is solely responsible for its content. Comments
should be addresses to cchale@bellsouth.net