In this column, Ann gets right to the flavor of the topic, so . . . . . take notes! With no further adieu, we turn the mike to Ann. You're on Ann . . . . .
Thanks Charlie,
THE ""SWEET OF "SWEET HOT" . . .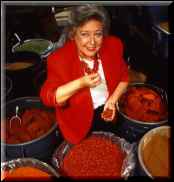 As we all agree, the right balance between sweet and hot is the secret of great barbecue. There are numerous ways to sweeten sauces and dry rubs. Choosing the right sweet and the right heat is the difficult part. Understanding the differences in sweeteners makes it easier to achieve the right balance.
The intense sweetness of refined white sugar is familiar to us all. White sugar has one note, sweet and a little goes a long way. Brown sugar has a somewhat more complex flavor. White or brown sugar most commonly used either in granules or in crystal form, is the result of refining processes. After sugar cane is harvested, the juice, produced by crushing the cane, is boiled to produce sugar crystals and molasses.
The dark brown, unrefined cane sugar that results is known as muscovado. Muscovado is a super-rich, molasses-flavored product which is available in several intensities through ingredient suppliers. Dried molasses (an entirely different product) is easier to obtain and comes in several varieties. Some dried molasses is mixed with corn starch or soy flour. This addition makes it easier to work with in a dry mix and will contribute to the texture in sauces. There is a real affinity of molasses with meat and the complex flavor combines well with spices.
Most molasses is a blend of syrups from different varieties of cane. Blackstrap molasses,which is thicker, stronger, and darker, is the concentrated syrup left over after sugar has been refined. It contains about 50 percent minerals and organic materials. It is nutritionally rich, helps preserve products, and has a complex interesting flavor.
What we know as brown sugar is a refined sugar, artificially colored with caramel. Brown sugar is useful in sauces, but is difficult to work with in dry mixes. Its tendency to become hard requires the use of chemical additives to keep it free-flowing.
Turbinado sugar is a refined sugar with the flavor of molasses reintroduced. The flavor is similar to brown sugar, but it has none of the caking problems which makes it a good substitute.
Honey, the world's oldest sweetener, is available in liquid and dry forms. Honey's soft mellow flavors are being used successfully to create wonderful barbecue sauces. Because honey has a lighter, more subtle sweet, it must be carefully combined with spices so as not to be overwhelmed. I prefer the way single flower honeys hold their own with spicy mixtures. I especially like the strongly flavored buckwheat honey.
Maple syrup is a brown syrup produced from the sap of two types of American maple trees. It has a smooth, rich flavor, rather like rum. It is seldom used in savory dishes, but has been used successfully with bacon, sausage and spare ribs. Maple sugar has the same flavor profile as maple syrup and can be used in dry rubs to create the very special flavor.
Fruits and vegetables are great sweeteners. In recent barbecue contests, I have found barbecue sauces sweetened not only by apples and plums, but also carrots. Tamarind, available in oriental markets, is made from a tropical fruit and contributes both sweet and sour to barbecue sauces. This product deserves more recognition within the barbecue industry. It has long been the secret ingredient in commercial sauces. A-1 Sauce relies heavily on Tamarind and I have seen it on the ingredient list of some Worcestershire sauces.
And last, but not least, the sweet plays a vital role in the touch of caramelization that is so essential to great barbecue.
Copyright (c) 1998, by:
Ann D. Wilder, President
VANN Spices, Ltd.

More of Ann's Flavorful Topics!

'World of Spices' is &copy by VANN Spices, Ltd.
who is solely responsible for its content.