She is regularly invited to speak at chef's seminars and conventions. Her most recent one was before 150 chef's from all over. She has now graciously agreed to furnish us with some of her in sites into smells and flavors of spices from all over the world.
In this column, Ann gets right to the flavor of the topic, so . . . . . take notes! With no further adieu, we turn the mike to Ann. You're on Ann . . . . .
.Thanks Charlie,.
Sichuan Pepper - A "Berry" Taste Spice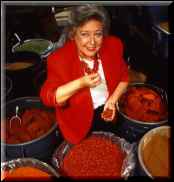 It's known by many names - Chinese pepper, Fagara, Flower pepper, Sancho powder, Szechwan pepper, anise pepper. Sichuan pepper, by whatever name, is a spice worth knowing.
The pepper has a pungent, woody aroma with a pleasant "peppery" flavor. (You already know the flavor because it is a major ingredient of Chinese Five-spice Powder.) It is mildly bitter with hints of citrus.
For best results, buy the berries whole and grind them in a small spice grinder. To achieve even more flavor, dry roast the berries in a heavy iron frying pan.
This spice has an affinity for pork and duck and is particularly good in cutting the flavor of fatty foods. Sichuan pepper is the pepper of choice for both Chinese and Japanese cooks.
Sichuan pepper is actually not a pepper but the dried berry from the prickly ash tree. It is indigenous to China where it grows abundantly in the wild. The red berries, which are picked in the fall and left to dry in the sun, are about one sixth of an inch long with a rough prickly exterior. The dried berry eventually splits open and looks like a flower.
Barbara Tropp, author of the China Moon cookbook, recounts her introduction to Sichuan pepper while staying in China with a wealthy family. The family used only the seeds inside the berry for flavoring food. One bite releases a burst of tingly flavor. The painstaking process of removing the seeds is far too expensive for our purposes. Furthermore, the husk of the berry seems to dilute the bitterness as well as adds a flavor of its own.
Sichuan pepper is the important ingredient in China's seasoned salt. To create the salt, Chinese cooks roast two tablespoons of Sichuan pepper with three tablespoons of sea salt and one teaspoon of white pepper.
When the Sichuan pepper begins to smoke, the spices are removed from the heat. This combination is ground to a course powder.
Dry frying the ingredients releases the aromatic oils, picks up a hint of smoke, and intensifies the flavor. This seasoning is used on everything as we would use salt and pepper.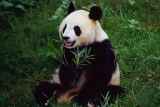 Sichuan pepper is a necessary pepper for many classic Chinese dishes such as Sichuan noodles with beef of crispy duck. In Sichuan province this spice is usually paired with chili peppers.
One of the few spices used in Japanese cooking is Sichuan pepper. In Japan it is known as Sancho. The pepper is always used ground and is usually added to food after cooking to counter the taste of fatty foods. Sancho powder is one of the ingredients in the Japanese seven- spice mixture of shichimi.
Shichimi is a combination of sancho, seaweed, chili powder, orange peel powder, poppy seed, and white and black sesame seeds. This is sprinkled over noodles or into soups. Shiitake mushrooms with garlic, ginger, and Sichuan pepper is also a favorite in Japan. This spice is great in Thai crab cakes and also on green beans.
In Korea, Sichuan pepper is used in cucumber salads. Sliced cucumbers are marinated in vinegar, sugar, salt, sesame oil, sesame seeds, and Sichuan pepper.
Remember: This flavor marries well with the flavor of chilies. The ultimate use might be in a great rub for pork or chicken. This could be your next secret ingredient..
Check out Ann's Current Column
Copyright (c) 2001, by:
Ann D. Wilder, President
VANN Spices, Ltd.
'World of Spices' is &copy by VANN Spices, Ltd.
who is solely responsible for its content