The World of Spices

In this column, Ann gets right to the flavor of the topic, so . . . . . take notes! With no further adieu, we turn the mike to Ann. You're on Ann . . . . .
Thanks Charlie,
The Mystery of Salt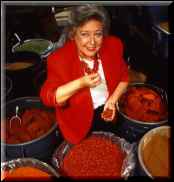 I am just back from the Culinary Professionals Conference, where I am happy to say, I ran into some friends from the barbecue industry. I am glad to see this crossover. After all, Barbecue is one great American contribution to the food world. While there, I talked with Chris Schiesinger, author of The Thrill of the Grill, and Barbara Troop of China Moon fame, who, like me, are on soap boxes about the importance of the right salt as an ingredient, and the necessity of understanding the use of salt.
We take salt for granted. We use it everyday, in fact, we would die without it. In spite of that, only two books in my reference library mention salt in any way other than an ingredient in a recipe, and one of those is the Knotes' book on Barbecue.
How salt functions is a bit of a mystery. Salt adds its own flavor to a dish, but also enhances some flavors and inhibits others. It tends to lessen the bitter taste and smoothes out harsh tastes so that flavors blend more harmoniously.
All salt was originally a marine product. Some salt is mined from deposits left after seas receded or dried-up. The salt is extracted, boiled down, and crystallized in various degrees of fineness. Sea salt is extracted from ocean water.
For 99 % of Americans, table salt is the only salt they know. It is finely ground, highly refined with both added iodine and free-flow chemicals. I think table salt is nasty. Taste it for yourself.
Rock salt refers to the salt used for ice cream machines.
"Coarse salt" is a common name for kosher salt. In my own cooking, I have always used kosher salt without knowing why. If asked, I would have said I felt I had more control or that it dissolved easier. Not so, it tastes better. When I became involved in the spice business and began constantly tasting and evaluating products, I discovered kosher salt is less harsh, less bitter, and less salty.
It is a great background salt. I use it to enhance other flavors. A simple example is the way chicken stock changes with the addition of kosher salt. When the stock is reduced and before the addition of salt, I taste strong (hopefully) chicken flavor; after adding salt, I taste chicken, carrots, onions, and the other vegetables.
Sea salt is saltier and has a brighter flavor. I use it as a finishing salt or an accent salt. Sea salt is obtained by evaporation of sea water, either naturally or artificially from evaporation pans.
If you were at the NBBQA Convention, you have already experienced my taste test on salt. For those who were not there, I urge you to taste it for yourself. It is simple: taste kosher salt, then sea salt, and finally Morton's, or any other table salt.
Salt has other uses, e.g., for thousands of years before refrigeration, salt was used as a preservative. It is still widely use for preserving olives, cheese, and seafood, as well as for curing. Salt preserves by drawing out the moisture, therefore, limiting the humid environment that fosters bacterial growth.
Salt can be a cooking agent. Gravlax, a traditional Swedish dish, can be prepared at home.
Gravlax
6 Tbsp. Sugar
6 Tbsp. Salt
2 Tbsp. Black Pepper (Coarse) Fresh Dillweed
2 Lb. Salmon Fillet
Mix salt, sugar and pepper. Cover 1/2 fish with 1/2 spice mixture. Cover with a layer of dillweed. Cover dillweed with remaining spice mixture. Place second salmon fillet on top, skin side up. Wrap with plastic wrap and weight down with heavy pan. Place in coldest part of refrigerator for 24 to 36 hours. Serve with rye bread and dill-flavored mayonnaise.
Copyright (c) 1998, by:
Ann D. Wilder, President
VANN Spices, Ltd.
More of Ann's Flavorful Topics!

'World of Spices' is &copy by VANN Spices, Ltd.
who is solely responsible for its content