Winging It with
Icarus Wings
Comments:
Chicken wings seem to be the experimental meat for discovering new tastes. They have been fried, roasted, grilled, barbecued, buffaloed and 'stickey-ed'. There is just about nothing you can do to the 'wing' to mess it up!
The Recipe:
Don't mess with bought sauces - try this easy and tasty recipe for hot wings:


5-8 lbs of wings, trimmed

16 oz Kraft Zesty Italian Dressing

1 Cup water

1 tsp Tabasco sauce . More if children or other tender mouths are not eating.
Salt and black pepper to taste.
Pour 1/4th of the mixture into a stainless steel bowl. Dip the wings into the sauce on their way to the grill. Reheat the remaining marinade and boil for 1 minute to kill any bad bugs from the chicken. Keep the remainder warm and baste the wings as needed.
Finishing Sauce:


1 Cup Catsup

1 Cup prepared mustard

2 Tbs Worcestershire sauce

1 Tbs hot sauce

Apple juice to thin to desired consistency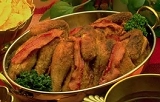 Simmer and mix well. Baste when the wings are done