Comments:
Teriyaki is more often than not Japanese meat grilled and glazed in thick soy and sake sauce. While not necessary, the more ethnic style of cooking teriyaki chicken/beef/pork/etc is on a hibachi grill.
If you are seeking a great marinade for most foods including flank or just about any type of steak, then this recipe is just for you! Combine the following ingredients:

1 cup pineapple juice


1/2 cup soy sauce


1/2 cup brown sugar


2 Tbs fresh ground black pepper


2 cloves garlic - minced


1 tsp Worcestershire sauce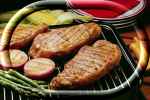 Mix ingredients thoroughly. Marinate steaks for 2 to 4 hours turning occasionally. Discard marinade and do not reuse. Cook steaks over a HOT fire until done. Serve immediately. REMEMBER: A steak continues to cook for 5 to 10 minutes after being taken off the grill. So under cook just a bit so that it will be correct when the knife hits it.
Enjoy!