Sweet BBQ Sauce
Comments
Barbecue sauce offers the finishing touch in many a presentation from the pit. Some folks like to use a good sauce to drown the failure of their endevour and others like to add just a little to compliment their achievements. In either event, this is the sauce for you!
Contributed by:
Dave Markovsky
Collect the finest pork ribs you can and then prepare the following ingredients to be used during the last hour of cooking and then later at the table.....mix:


1 Cup Tomato Paste


1/2 Cup Dark, Heavy or "Robust" Molasses


1/4 Cup Apple Cider Vinegar


1/4 Cup Dijon Mustard


3 Tbsp Worcestershire Sauce


1 Tsp Garlic Powder


1/4 Tsp Cayenne Pepper


1/4 Tsp Hot Pepper Sauce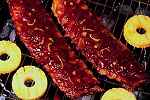 By all means...adjust the hot stuff to your taste...it's a non-destructive variable!
Smoke ribs for 6 hours at 220° F. Sauce 'em up and finish on the gas grill...220° F. for 1 more hour.
Last Step: Eat as slowly as you can...'cause you'll cry when they're all gone!
Smoke on!
Editor's Note: The 6 hours mentioned above should be reserved for the spare/St. Louis cuts of pork ribs. Baby back/Loin Back ribs should be done around 3 1/2 to 4 hours. Good eaten'!