Smoke Grilled Quail
Comments:
Quail, a game bird, is a collective name for several types of mid-sized birds in the pheasant family. What makes them so good is that they are small, plump birds.

8 quail - 2 per person


1 tbsp lemon juice


1 cup Italian dressing


2 or 3 dashes of worcestershire sauce


1 or 2 tsp minced garlic


1 tsp fresh ground black pepper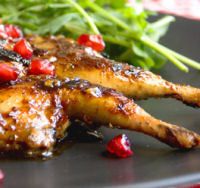 In a bowl mix together the lemon juice, Italian dressing, worcestershire sauce, pepper and garlic. Place the quail in a large bowl. Pour the marinate over the quail, covering it well. Stir the quail around so that it coats evenly. Repeat stirring every 4 hours.
Start your grill in normal fashion and add wood chips or wood chunks to your grill or pit. For wood chips, use a smoker box to hold the chips so they begin to smoke rather than burn up. If using wood chunks, simply add them at the edge of the fire. Allow the pit to become smoky. As for the type of wood, we recommend Apple, Sugar Maple and Cherry woods.

While the grill is heating, remove the quail and place on a covered plate. Lightly boil the marinade to kill any bacteria. Grill the quail over medium heat until done turning and basting often with the marinate.

Serve and Enjoy!