Slim Jim
Summer Sausage
Comments:
As you know, Slim Jim is a trade name for a small summer sausage. Here is a "copy cat" recipe. You may want to adjust some of the flavors to suit your taste. To make sausage at home, you need a food grinder as food processors chop it too finely. If you don't have a sausage stuffer with a casing attachment, then summer sausage can be hand shaped or molded in soup cans.
Contributed by:
Smoky
If you intend to make them regularly, you need to make up a batch of Prague Powder No. 1 which is:

1 oz of sodium nitrate to 16 oz of salt or 1.25 oz potassium nitrate to 1 lb of salt
Or you can buy it ready mixed from the sausage maker at a much higher price. If you mix your own, REALLY mix it. Put it into a container and shake and roll it for 5 minutes. Then LABEL it so that it is not used accidentally for table salt. Also remember that infants should not eat cured foods.

10 lbs of beef


4 T. HOT Hungarian paprika (if you can't find it use regular paprika but double the cayenne)


1 Cup powdered milk


1/2 Cup Powdered buttermilk


5 Tbs Hot mustard


5 Tbs Non-iodized sale


2 Tbs powdered sugar or corn starch


2 Tbs Garlic powder


1 Tbs ground celery seed


1 Tbs Onion powder


1 Tbs ground cayenne pepper


2 tsp fresh ground black pepper


2 tsp Prague Powder No. 1


2 tsp allspice


1 tsp ground thyme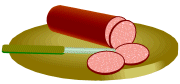 If you have been making it already, then you know the process. Just make certain that you take it up to 145-150° during the smoking. If you smoke for 20-24 hours you will increase the tanginess of the taste. For less tangy, cut the smoking time in half.
Have fun,
Smoky