Simple Steak Sauce
Comments:
Beef people know the the only type of meat that reigns on high is the steak! That juicy, tender cut that satisfies the pallet like no other is often for those special romantic or just hearty meals after a good days work. Treat yourself often! You deserve it!
Contributed by:
Smoky
For those who wish to add additional flavors to the steak, the following is a simply, elegant sauce....

4-6 Tbs. virgin olive oil, peanut oil or (what the heck) unsalted butter


6 Tbs. minced shallots or 3 Tbs. each mild garlic and onion


6 Tbs. shiitake mushrooms, sliced thinly


2 lemons or limes, juiced


1/2 tsp ground bay


1/4 tsp ground thyme


1/2 cup red wine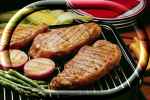 Saute the shallots in the oil until they are clear; then add mushrooms and saute until tender. Pour oil into metal bowl suitable for taking to the grill, add lemon/lime juice and mix well. Baste teh steaks on all surfaces and set aside, covered, while preparing the fire.
When the grill is fully heated, drain and reserve teh oil-juice baste. Place the steaks on the grill. Base and turn when the steaks tell you.
After steaks are removed, return remaining oil to veggies, add ground bay leaf and thyme and 1/2 cup red wine. Heat, deglaze and reduce by half. Serve over the steak at the table.
Enjoy!