Comments:
Power chicks are any poultry you want to "dress for the party". Simply follow the instructions for some great tastes everyone will appreciate and come back for seconds.
You will need the following ingredients:

2 chickens or cornish hens (or one small turkey)


1/2 cup Kraft zesty Italian dressing


1/4 cup lemon juice


3 Tbs apple juice


2 Tbs brown sugar


1 Tbs Worcestershire sauce


2 Tbs Fresh ground black pepper


1 tsp salt


1 tsp paprika


1 tsp garlic powder


1/2 tsp celery salt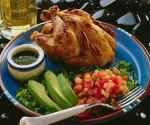 Prepare your barbecue pit for indirect cooking. We recommend lump (natural) charcoal for your heat source. In a separate bowl, combine all ingredients except the sugar and apple juice thoroughly. Coat the poultry thorought both on and under the skin. Place on grill away from heat. While cooking, combine brown sugar and apple juice. Cook poultry at 325° until until about 20 minute before being done. During the last 20 minutes, baste with the apple juice/brown sugar mixutre. Serve warm.
Enjoy!