Comments:
If you are seeking something just a little different and tropical, give this Polynesian barbecue sauce a try. We believe you'll enjoy the tropical breezes.
Take all the ingredients and combine them in a stainless steel or glass saucepan. Blend thoroughly while bringing mixture to a low boil stirring constantly. You don't want the sugars and tomato sauce to burn. Allow to simmer for 10 to 15 minutes and use warm.

2 Cups ketchup


1 cup apple cider vinegar


1 Cup sugar, dark brown, packed


1/2 Cup pineapple juice


2 Tbs soy sauce


1 tsp ground ginger


1 tsp salt


1 tsp hot sauce


1 tsp fresh ground black pepper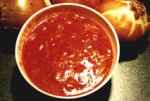 Use like you would with any barbecue sauce or as a finishing sauce. Great on chicken, pork and seafood.