Comments:
Kansas City turns out some of the finest barbecue to be found anywhere in the world. They are absolutely famous for their pork and pretty darn good when it comes to brisket also! Contributed by: Que Queens
Collect the following ingredients:

1 - 10-12 pound beef brisket, trimmed


1/2 cup paprika


1/4 cup cayenne pepper


1/4 cup granulated garlic


1/4 cup black pepper


olive oil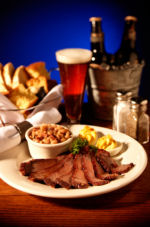 Combine dry ingredients and set aside. Coat brisket with the olive oil and combine spices and rub into meat. Let sit for an hour to come to room temperature. In a smoker, prepare an indirect charcoal fire. Set a pan of water on the other side. When the fire is hot, add water-soaked chunks of hickory wood to the charcoal. When the heat registers 225°, place the brisket over the water pan, cover, and monitor the temperature, keeping close to 225°. Smoke the brisket for 12 hours, keeping temperature steady. Remove the brisket from smoker, wrap in plastic wrap, then cover completely with aluminum foil. Return the covered brisket to smoker and cook for another 3 hours. Remove from smoker and let stand for 10 minutes. Unwrap, then slice thinly and serve with your favorite barbecue sauce. Serves 8-10.
Editor's Note: We do not recommend covering the brisket with the plastic wrap or foil coating. We do like the rub the Que Queens use.