If you would like to step out onto the wild side, then let's get dressed up and throw some oysters on the grill. They make great appetizers for just about any party!
Trim up a fresh pork loin, removing all the fat and silverskin. (Rub the fat on your grill, season your cast iron skillets, render it down for lard, toss it to your dog or use it to help the fire get started.)
Fire up the grill for roasting - 350°. Rub it well with a mixture of:

2 dozen shelled fresh oysters


2 Tbs olive oil


1/2 cup shallots, minced


2 large cloves garlic, minced


4 Tbs honey


3 Tbs Dijon mustard (brown mustard)


3 tbs lime juice


2 tbs Worcestershire sauce


4-5 strips of bacon, cooked and crumbled


1 tsp salt


1/2 tsp fresh black pepper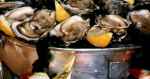 Shuck 2 dozen oysters and leave them in the deep side of the shell. Place oysters on a baking sheet and 'nestle' in a thin layer of rock salt (keeps them in place).
Heat the olive oil in small saucepan. Next add the shallots until soft. Add the garlic and cook for a few more minutes stirring to keep them from burning. Add the remaining ingredients, except the bacon.
Spoon the cooked ingredients from the saucepan onto the oysters. Place the cooking pan on the grill and allow to cook at about 400° for 8-10 minutes. When done, remove, sprinkle on the bacon and serve!
Enjoy!