Comments:
Don't settle for irksome meals ever! Live a little and spice up your evening meals with some really wonderful spicy grilled tomatoes. Make your meals exciting, inspiring, provocative, stimulative, stirring! Can we say more?
Let's get started...
Go ahead and preheat your grill for direct cooking (heat directly below the tomatoes to be grilled). Next collect the following ingredients from the frig or pantry:

1 1/2 to 2 lbs large tomatoes


2 cloves of garlic - minced


2 Tbs freshly ground black pepper


2 tsp butter or olive oil


2 tsp lemon juice


1/2 tsp ground cumin


1/4 tsp chilli powder


1/4 tsp salt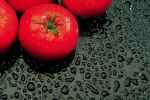 Cut the tomatoes in half crosswise and season with the salt and pepper.
In a small stove-top pan combine the other ingredients and simmer until the garlic is slightly browned. Remove to a bowl for further use.
Place the tomatoes on the grill flat side down and grill until browned. Then with tongs, turn the tomatoes over and spoon on the remaining ingredients directly on the top of the tomatoes. Continue cooking until the bottoms are also slightly browned. Serve immediately and enjoy!