Baked Potatoes
Comments:
Potatoes go great with barbecue. Here is a neat way to fix them on the grill for that rich charcoal flavor.
Ingredients:

Enough potatoe "halves" to feed everyone


2 Tbs butter for each potato half


1 Tbs butter for each potato half - melted


1/4 cup cheese for each potato half


1/8 cup sour cream cheese for eacn


2 strips bacon cooked crispy - crumbled


Salt & pepper to flavor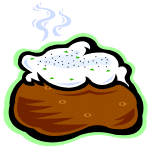 Cook potatoes in microwave until 1/2 done. Cut potatoes in hald lengthways and coat all sides with the melted butter. Place in indirect heat for 45 minutes or until easily pearced with toothpick. While cooking occasionally place small pieces of the remaining butter on potatoes.
Hint: Try placing a couple of cuts in the potato about 1/2 way to the skin. This allows the butter into the potato. When cooked, remove and add additional ingredients.