Grilled Flank Steak
Comments:


The flank steak is also popularly known as the London Broil (a misnomer, as the dish did not originate in London). The popularity of London Broil has driven up the price of flank steak over the years. Since it is significantly tougher than the loin and rib steaks, most flank steaks are quickly seared and eaten rare to medium rare in order to maintain its tenderness.
Begin with the finest flank steak available in your area:



3 pounds flank steak


1 tablespoon ground mustard


1 tablespoon onion powder


1 tablespoon garlic powder


1 tablespoon salt


1 tablespoon fresh ground black pepper


1/2 teaspoon cayenne


1/4 teaspoon allspice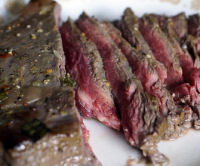 Preheat a your grill to high...you will be searing the meat over high heat.
Combine the mustard, onion powder, garlic powder, salt, cayenne and allspice in a small bowl. Rub the flank steak all over with the mix and let sit for 10 to 30 minutes.
Place flank steak directly over the hot coals/burners and cook for about 5 minutes per side depending upon the thickness. You will want to cook it to medium or medium rare doneness. Use an instant read thermometer to be sure. Remove and let rest 10 minutes before slicing.