Garlicky Chicken
Comments:
This has to be one of our favorite day-in-day-out recipes. And, garlic has to be the gift of the gods. So is it any wonder that garlic is one of the favorites of fine chefs and hearty appetites alike? So why wait, let's get to cookin' and eatin'.
In a cooking pot, combine the following:

1 cup of light olive oil


6 cloves of garlic


2 Tbs fresh ground black pepper


1 Tbs dried oregano


1 tsp of salt


1/2 tsp paprika


1/2 tsp Tabasco
Optional (and suggested to get more rich flavor): Add 2 Tbs of Herb Rub For Chicken - It is best to always have some of this rub in the spice cabinet for immediate use!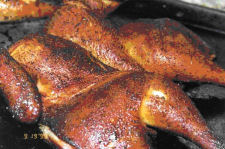 Puree ingredients in a blender and place in a shallow bowl or zip lock type of plastic bag. Add 4 to 6 chicken breasts and marinate for 4 hours. Grill normally over medium heat. Note: When using 'skin on' chicken, try to loosen all the skin so that the marinade can reach the meat under the skin. Many people will not eat the skin so the marinade needs to be on as much of the meat as possible.
Enjoy!