Comments:
You don't have to live in Florida to really enjoy these delights which are accented with real orange juice! You can make them ahead of time and when the party starts, you're ready to rock 'n roll.
Let's get started... Begin by collecting the following:

1 pound bonless pork, cubed


3 Tbs orange juice


1 Tbs ground coriander


1 tsp fresh ground black pepper


1/2 tsp turmeric


1/2 tsp gournd cumin


1/2 tsp salt


1/4 tsp ground ginger


1/2 tsp cinnamon


Double skewers if possible


Otherwise wooden ones soaked in water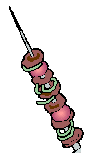 In a medium glass or plastic bowl, combine all ingredients and cover for 4 to 8 hours. When you are ready, place on the skewers. We recommend "double skewers" (two prongs to each skewer which prevents food from 'twirling on the stick'). Grill over medium heat for about 10 minutes, until done.
You can find some double skewers here.
Enjoy!