Comments:
Bolder flavors are finding their way into more dishes each year. Pork can stand up to those intense flavors and this recipe will be a hit around your backyard!
Mix the following ingredients:

1 Qt apple cider vinegar


1 1/2 cup water


1/2 cup peanut oil


1/4 cup Worcestershire sauce


2 Tbsp. fresh ground black pepper


1 tsp. Cayenne pepper


1 tsp. salt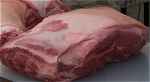 Heat on medium heat 2 tbsp of oil and then add black pepper in until it begins to "pop". Add the balance of ingredients and simmer for 20 to 30 minutes. Allow to cool slightly and baste meat while cooking. We usually apply a separate dry rub on pork shoulder/butt and cook this 1/2 the time before beginning to baste. Check the Weekly Recipes for types of rubs for pork.
Enjoy!