The World of Spices

In this column, Ann gets right to the flavor of the topic, so . . . . . take notes! As a side note, Ann passed away in 2009 and we lost a great friend and someone who really knew her spices. We are pleased to continue spreading her valuable words. See Vann's Website
Here
Cinnamon Confusion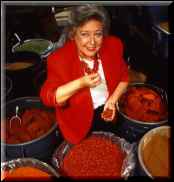 Cinnamon is one of the oldest and favorite spices of the world. It is used in almost every cuisine. American cooks are not always aware that the cinnamon most readily available in this country is cassia (Cinnamomum Cassia). Cassia has a similar taste and aroma to true cinnamon but is more pungent, harsher and less fragrant than true cinnamon. Until recently Americans have preferred the stronger flavored cassia, While the British preferred the milder flavored cinnamon (Cinnamomum Zeyanicun). The terms cinnamon and cassia are used interchangeably causing confusion.
Cassia is harvested primarily in Indonesia but also China and the East and West Indies. In these hot, wet countries Cassia is a weed tree. When the bark is ready the trees are cut down and the bark is stripped from the trees and cut in workable sections.
The best of the cassia is Chinese cinnamon (Korintje AA or AAA) which is harvested by cutting branches from older trees which produce cinnamon with a higher oil content. Usually the better spice houses sell Chinese cinnamon. For your needs, select a product by the oil content and by use. For large commercial baking, a cinnamon with oil content of 1 to 2% is fine. For those of you who are creating full flavored food, look for cinnamon with 4 to 6% oil. The extra flavor will be evident.
True cinnamon is sweeter and more fragrant than the more familiar cassia. It has less heat. The aroma is woody and intense. The flavor is fragrant and warm. The difference between the two products is obvious not only in the taste and aroma but also in color. The color of cinnamon is tan rather than the red brown of cassia.
Cinnamon is native to Sri Lana and Bermuda but is shipped through the port of Saigon. It grows best in the sandy soil of coastal Plains. This evergreen of the laurel family grows to 33 feet tall in the wild but is cropped to a small bushy evergreen to aid in harvesting. Limbs can be harvested every 2 to 3 years. Cinnamon bark is best when harvested during the rainy season. The best bark is cut from the center of the tree. The cinnamon quills from true cinnamon are paper thin and easily broken in hand. They are somewhat porous which makes him perfect for mulling spices and flavoring coffee and tea.
Because of the war, this cinnamon has not been available until recently. Now it is readily available at the same time American cooks are more aware and more selective about cinnamon. Using this timeworn habit of naming a spice from the port from which it is shipped at Vann's cinnamon is called Saigon cinnamon.
Cinnamon is wonderful in deserts and quick cooked products like cinnamon buns and cinnamon sugar toast. For long cooking I would choose the less expensive cassia.
The following recipe for ice cream will show the cinnamon to perfection:
Makes about 2 quarts
1 3/4 cups sugar divided
6 tablespoons water
1 1/2 tablespoons cinnamon
1/2 cups milk
one beaten egg
1 pint whipping cream
1 tablespoon vanilla
Combine 3/4 cup sugar, water and cinnamon. Set aside. Scald milk. Stir in remaining 1 cup sugar and the egg. Cook until thickened, to coat the spoon. Chill. Stir in sugar, water and cinnamon mixture and add cream and vanilla. Freeze.
As a side note, we will often use cinnamon in a recipe when we desire a littel more sweet and more intense woody flavor.
If you are interested, they also do custom blends and private lables.
Enjoy!