Welcome to the World of Spices. Here you will find the rare opportunity to learn about all aspects of spices which make our foods taste so wonderful. To help you understand how and why spices flavor by themselves and together to create fantastic entrees, is Ann Wilder, President of Vanns Spices Ltd., a 15 year old company dealing in the world of spices.

Ann has won three gold medals from the Chef's in America Foundation. Additionally, spices which she furnished, were used exclusively by the Canadian team - They won every gold medal in the most prestigious Culinary Olympics in Frankfort Germany in 1992!

She is regularly invited to speak at chef's seminars and conventions. Her most recent one was before 150 chef's from all over. She has now graciously agreed to furnish us with some of her in sites into smells and flavors of spices from all over the world.

In this column, Ann gets right to the flavor of the topic, so . . . . . take notes!

With no further adieu, we turn the mike to Ann. You're on Ann . . . . .

Thanks Charlie,
Chili - America's Gift to the World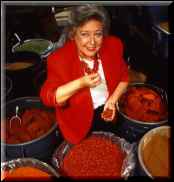 According to Mark Miller, anthropologist, teacher, restaurateur and chili evangelist, chilies have been cultivated in the Americas for more than 8,000 years. They were unknown in any other part of the world until Columbus returned from the Caribbean with what we believe was Scotch Bonnet peppers and sold them as pepper. Although certainly not pepper as we know it (piper nigrum), the chilies must have been an instant hit. The Portuguese, who were heavily engaged in the slave trade, introduced them into West Africa by 1495. We find them in Goa by 1518, where they spread rapidly north through India and then into China via the Silk Route. Today, Sichuan and Hunan cuisines, those cultures closest to the Silk Route, are still the most dependent on chili peppers. From China, chilies were quickly adopted by the Indonesians and introduced back into South America in less than 100 years.
Today, there are perhaps 95 different chilies in commercial use in the world. Remember, all spices are affected by soil and climate. Think about wine grapes growing in Connecticut and the same grapes growing in California. With chilies, you will find the same significant difference. Mexico's hot dry climate and volcanic soil produce premium products. New Mexico, Texas and California are also good growing areas that will produce, it not premium products, certainly fine products.
Most cooks understand that chilies have been dried before grinding; however, not everyone knows that in America they are also roasted. It is this roasting that gives us the flavor we love. Roasting times may range from one or two hours - to many hours. The longer the roasting time, the more the sugar caramelizes and the sharper the flavor. Roasting also changes the color, e.g. the darker the chili, the longer it has been baked. If, when buying chilies, you ask for chili peppers ground, you will receive ground chili pepper, most probably New Mexican Red. On the other hand, if you ask for chili powder, you will receive instead, a mixture of several different ground chilies, plus cumin, oregano, salt, and perhaps garlic and other spices.
In preparing for this article, I talked to several chili-processing plants. One used only New Mexican Red and New Mexican Brown chilies. Others bought Plobano of a certain weight and moisture content.
Different chilies have different flavors. Some have a fiery heat. Heat in chilies is measured in Scovill units. The following chart will help you select the heat you require. The smaller the chili pepper, the higher the heat.
Beyond heat each chili will have other flavors -- sweet, bitter, tobacco, chocolate, citrus, and fruity are words we use to describe various flavors found in various chili peppers.
Some chilies for example Anchos, are particularly sweet and have an interesting first flavor. Mulato has a long finishing flavor. De Arbol has a fine complex flavor. By combining different chili peppers we can product the full round flavor that is so satisfying. Chili processing plants attempt to do this for you in their chili powders most plants have from 4 to 15 varieties, ranging from light to dark and hot to mild. Trial and error will tell you whether these chili powders will meet your special needs, or you can buy one or more ground chili peppers and create your won special blend
Copyright (c) 2001, by:
Ann D. Wilder, President
VANN Spices, Ltd.
'World of Spices' is &copy by VANN Spices, Ltd.
who is solely responsible for its content.